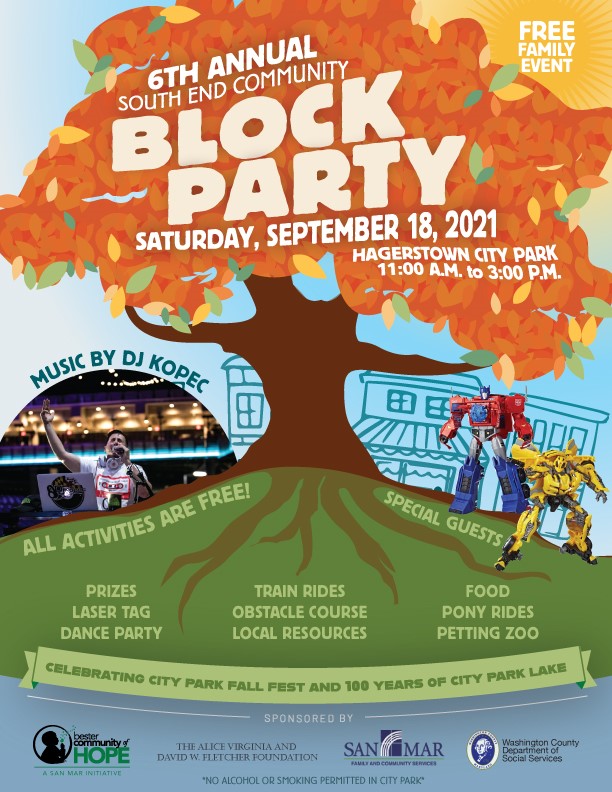 PRESS RELEASE  
***For Immediate Release***  
Bester Community of Hope (BCOH), a San Mar initiative is returning with in-person activities for their 6th Annual South End Community Block Party at City Park this September. Together with City Fall Fest, BCOH celebrating life in the heart of the South End of Hagerstown on Saturday September 18, 2021 from 11:00 am to 3:00 pm. The neighborhood festival is traditionally held each year at the beginning of Fall, and offers a free, family fun-filled roster of opportunities.
Families will have access to a vast array of local resource vendors and the ability to join an ongoing dance party and other entertainment in Hagerstown brought to you by Baltimore performer DJ Kopec. "We're ecstatic to be hosting our biggest event in-person since the pandemic and we are ready to celebrate the vibrancy of the South End of Hagerstown, "said Joan Balbuena, Neighborhood Partnership Coordinator for BCOH. The Dance Party with DJ Kopec, official DJ for Under Armour and the Baltimore Raven's cheerleaders who has been a viral sensation during the pandemic, will kick off at 11:00 am, along with the other family fun activities, and won't stop until 3:00 pm.  The Transformers characters will be in attendance to meet and greet their fans of all ages for fun photograph opportunities. All activities are free and will include laser tag, pony rides, petting zoo, inflatable soccer, and a variety of other resources. 

The Annual South Side Community Block Party was first held in 2016 to bring the community together and begin developing a shared vision for South End neighborhoods. About 500 people attended the first event at the Bester Elementary School field and attendance grew each year.  An estimated 2000 people gathered at City Park for the 2019 event with the Chuck Brown Band which also featured a resource area with over 40 local providers, games, and activities for the entire family. Due to the pandemic, last year's event was held with safe options that were both self-guided activities and virtual performances by the legendary reggae band The Wailers & DJ Kopec.  
Funding and support for the Annual South End Block Party and focused South End neighborhood efforts is provided on behalf of the Alice Virginia & David W. Fletcher Foundation, as well as an ongoing partnership with the Washington County Department of Human Services to support stronger families and thriving communities.  For more information on this year's event, please contact Joan Balbuena at 240-513-6370 or visit the main webpage at www.besterhope.org .