"We believe that helping a community thrive begins with a local focused investment in children and their families, and there is no better place for consistent connections than school."
A family, school, and community partnership that provides equitable access to holistic opportunities, so children are ready to learn and positioned to succeed. 
BOOST: Bester Out Of School Time
BOOST IS BACK! 
Starting September 13, 2021, Bester Community of Hope (BCOH) will be providing a health and wellness centered afterschool program to promote student social and emotional development through fun and engaging experiences. BCOH partners with Bester Elementary and other community partners to bridge community and school relationships as well as strengthen the natural resources within the local community. BOOST will assist students in making positive connections with safe & healthy adults while nurturing students social and emotional development and overall well-being.
BCOH provides BOOST after-school programming at no cost to students or families who attend Bester Elementary School; Monday through Friday. Clubs will rotate every six weeks to ensure that all interested students have the opportunity to participate in student identified subjects. 
CYCLE 1: September 13th – October 22nd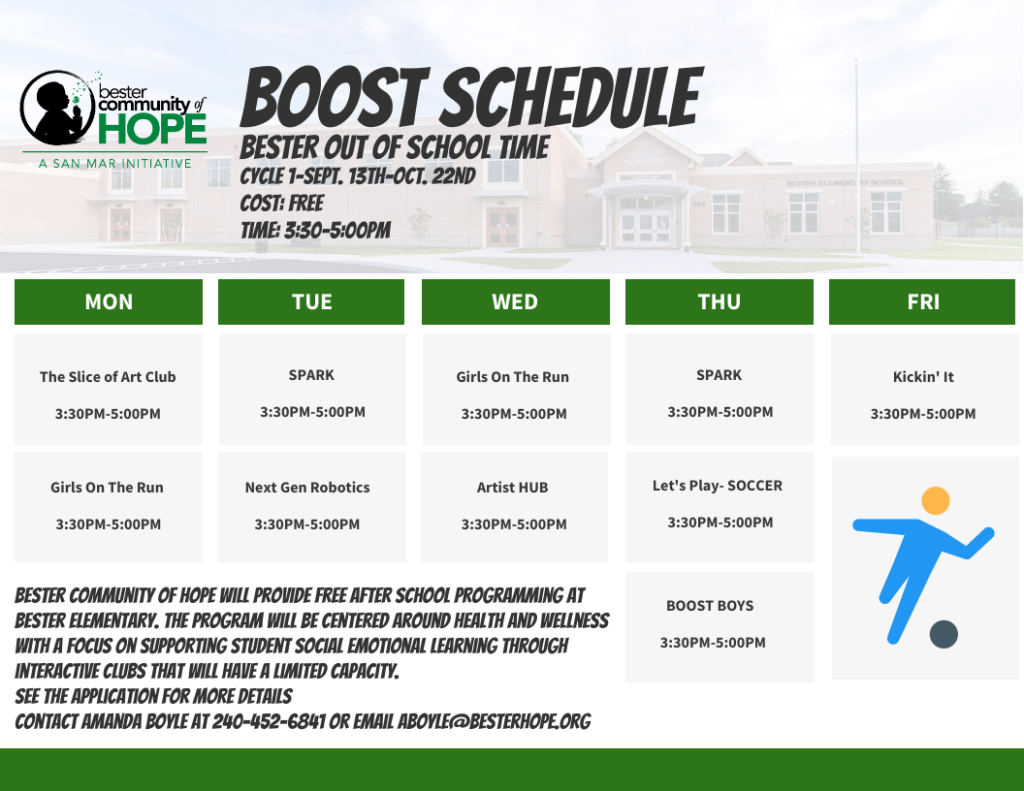 READY TO REGISTER? Download & print our student registration forms:
      *If you are unable to download and print, please contact Amanda to make other arrangements.
Completed forms can be returned to Bester Elementary School, emailed to aboyle@besterhope.org, dropped off at our office located at 356 Mill St. Hagerstown, or mailed. For additional questions, please contact our Community School Coordinator, Amanda Boyle, at 240-513-6370 EXT 6.
Pipeline of community support
Pursuing the community school strategy, with successful integration of community partners into the existing school programs will also allow the pathway for other community members and organizations to find meaningful ways to contribute to needs identified by school personnel and Bester families.
Classroom Meetings
A Social-Emotional curriculum integration
Through a partnership with The Center for the Collaborative Classroom (CCC), Bester Community of Hope has provided Bester Elementary School teachers toolkits to add resources to daily class meetings focused on building kindness, emotional intelligence, communication and social skills. Implementation in other school systems who have utilized this social and emotional learning model have seen dramatic positive outcomes in not only behavioral and disciplinary statistics, but overall academic success. CCC continues to be involved as a consultant helping to continue to refine the work and move the effort forward.