"We believe that helping a community thrive begins with a local focused investment in children and their families, and there is no better place for consistent connections than school."
A family, school, and community partnership that provides equitable access to holistic opportunities, so children are ready to learn and positioned to succeed. 
---
BOOST: BESTER OUT OF SCHOOL TIMEBOOST IS BACK! 
Starting September 13, 2021, Bester Community of Hope (BCOH) will be providing a health and wellness centered afterschool program to promote student social and emotional development through fun and engaging experiences. BCOH partners with Bester Elementary and other community partners to bridge community and school relationships as well as strengthen the natural resources within the local community. BOOST will assist students in making positive connections with safe & healthy adults while nurturing students social and emotional development and overall well-being.
BCOH provides BOOST after-school programming at no cost to students or families who attend Bester Elementary School; Monday through Friday. Clubs will rotate every six weeks to ensure that all interested students have the opportunity to participate in student identified subjects. 
CYCLE 4: January 25th – March 4th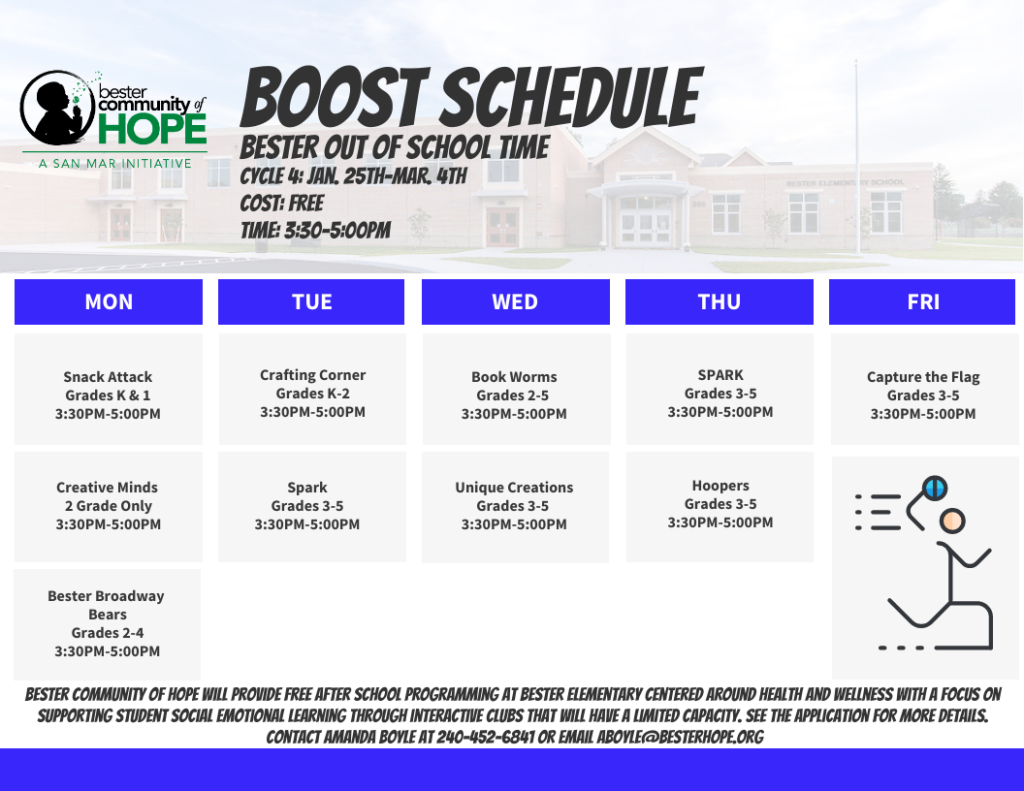 READY TO REGISTER? Download & print our student registration forms:
      *If you are unable to download and print, please contact Amanda to make other arrangements.
Completed forms can be returned to Bester Elementary School, emailed to aboyle@besterhope.org, dropped off at our office located at 356 Mill St. Hagerstown, or mailed. For additional questions, please contact our Community School Coordinator, Amanda Boyle, at 240-513-6370 EXT 6.
---
WALKING SCHOOL BUS
The Walking School Bus (WSB) meets Bester Elementary School students on Wednesday mornings during the school year. Trained Neighborhood Ambassadors meet students at three local HUBS to engage students and walk them safely to school following the Walk To School Route.
help students be ready to learn

promote safe pedestrian behaviors

strengthen community connections

facilitate wellness through physical activity
READY TO REGISTER? Download & print the student participation form:
WSB Student Participation Form 
Completed form can be returned to Bester Elementary School, emailed to jbalbuena@besterhope.org, dropped off at our office located at 356 Mill St. Hagerstown, or mailed. For additional questions, please contact our Neighborhood Partnership Coordinator, Joan Balbuena, at 240-513-6370 EXT 1.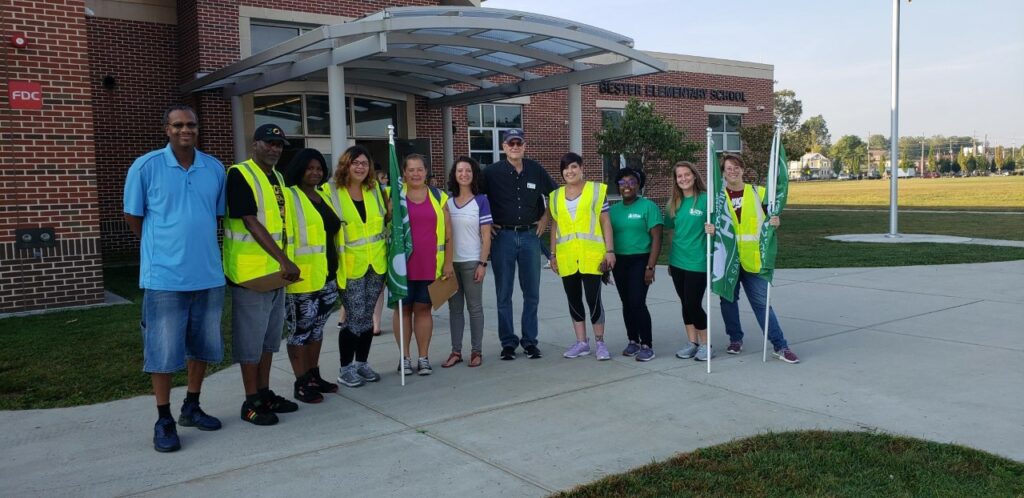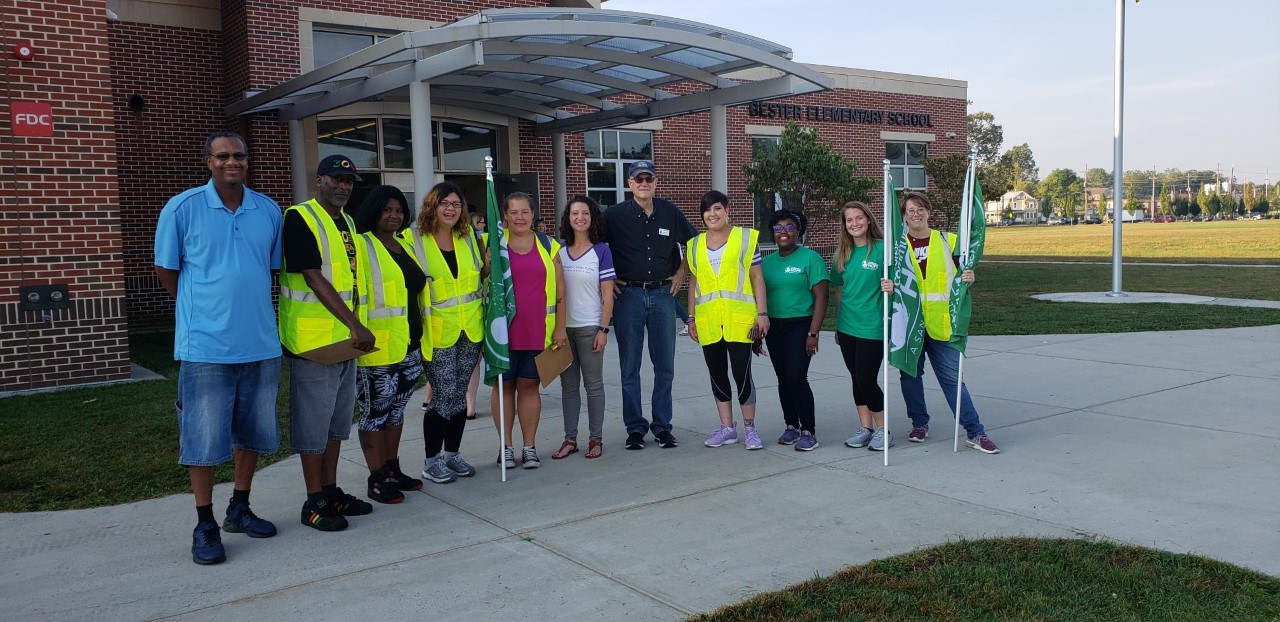 ---
"BE WELL" HEALTH INITIATIVE
Bester Community of Hope previously established a school-based health center at Bester Elementary School in 2016 through a grant with The Health Resources and Services Administration, an agency of the U.S. Department of Health and Human Services. The center's overall goal was to reduce barriers to health care by partnering the Community Free Clinic to provide free medical care and health education to children and their families in the community. As systemic barriers to accessing medical care were addressed and to continue to meet the needs of students and families, the project transitioned its efforts to focus on health promotional activities during the school day and in our BOOST afterschool program. All activities and resources are provided at no cost to students.
Recent activities include: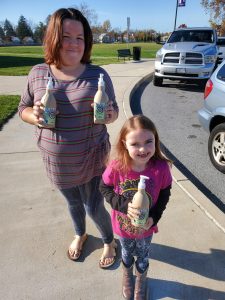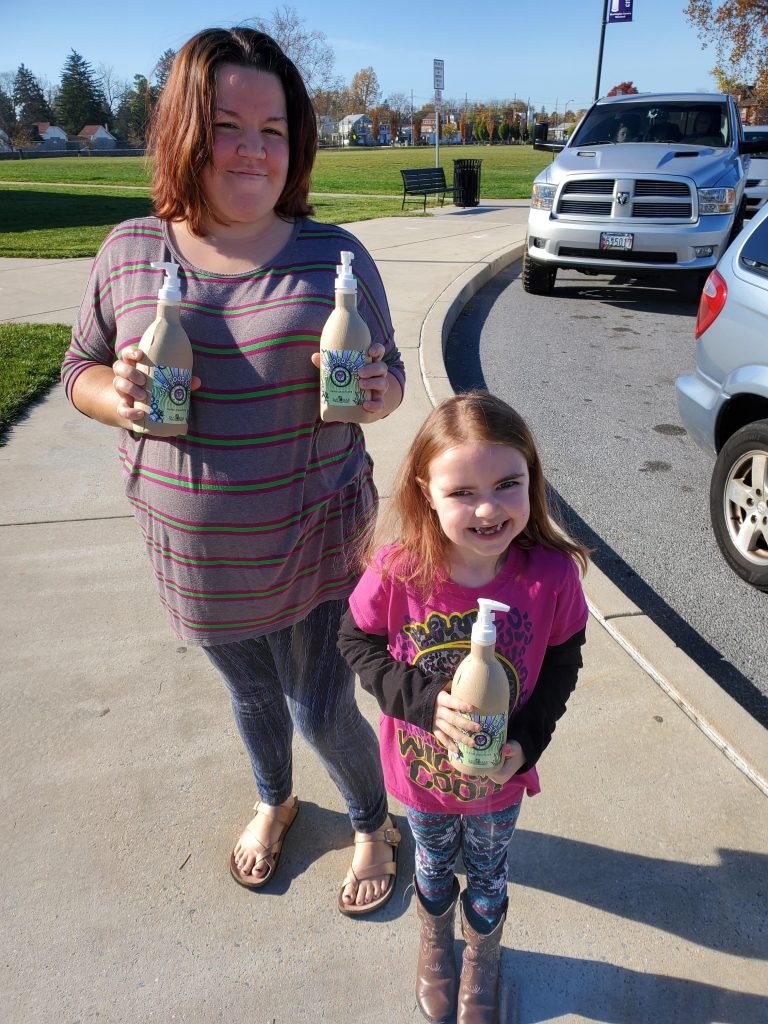 Designed, produced, and mass distributed hand sanitizer to residents, stakeholders, schools, and houses of faith
Health education sessions provided to all classrooms at Bester Elementary
Bester Wellness Bags- a bag of supplies including soup, crackers, ginger ale, tissues, education, etc. is sent home with students who leave school ill
Specialized health education sessions facilitated by content experts for parents and caregivers
Wellness boxes containing produce, Fitbit's, masks, and education delivered to students homes during the Covid-19 pandemic
---
PIPELINE OF COMMUNITY SUPPORT
Bester Community of Hope functions as a conduit of resources from community to school. As a community school initiative, BCOH leverages resources and relationships with community partners into the existing school structure to allow a pathway for organizations to find meaningful ways to contribute to needs identified by school personnel and Bester families.