***For Immediate Release***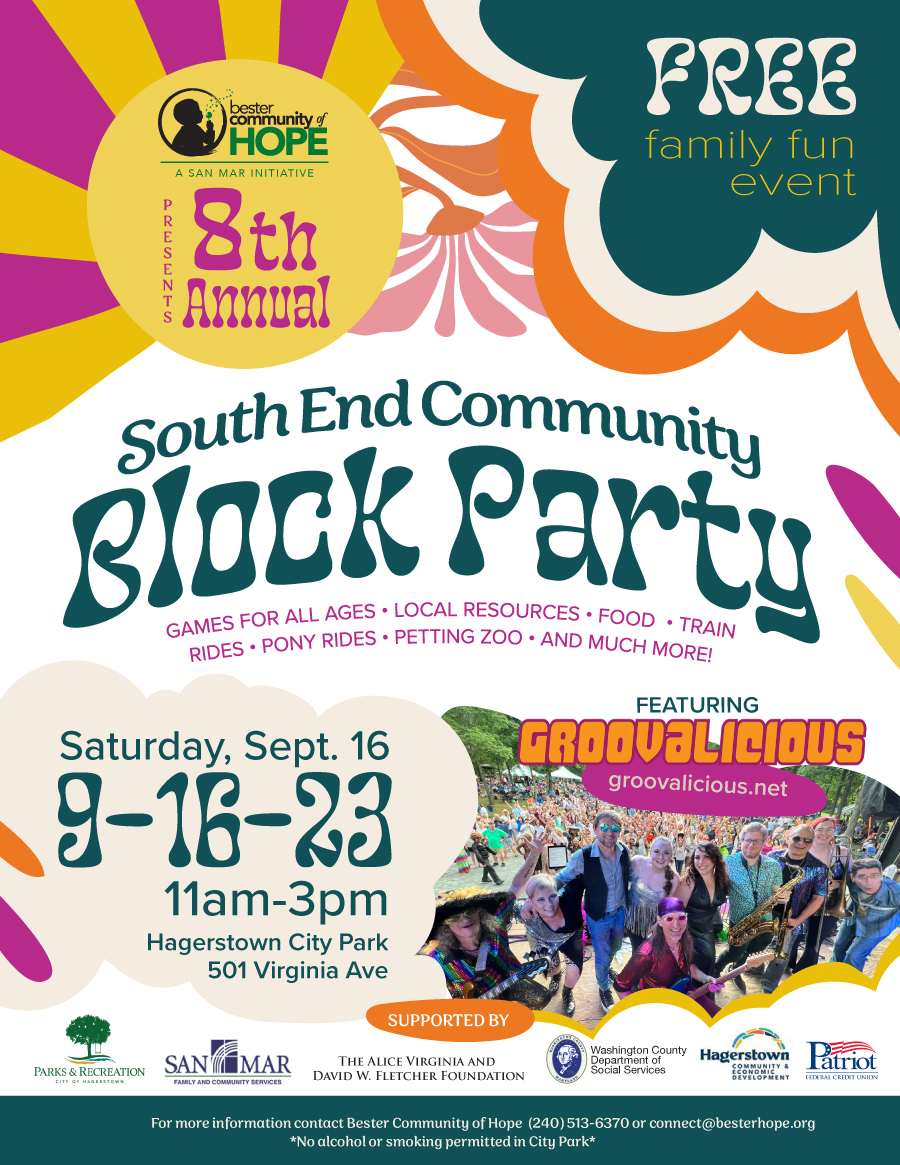 Bester Community of Hope, a San Mar initiative (BCOH), is announcing their 8th Annual South End Community Block Party at City Park this September. Together with City Fall Fest, BCOH celebrating life in the heart of the South End of Hagerstown on Saturday September 16, 2023 from 11:00 am to 3:00 pm. The neighborhood festival is traditionally held each year at the beginning of Fall, and offers a free, family fun-filled roster of opportunities.   
Families will have access to a vast array of local resource vendors and entertainment. "We are expecting another outrageously fun event this year with exciting family entertainment for all ages and connection with over 40 local vendors," said Jen Younker, Director of Bester Community of Hope. For the first time, Groovalicious, a popular 70's dance band and disco revival, will be hitting the stage during the Block Party playing all the hits from the days of bell bottoms, platform shoes and mirror ball. Attendee favorites, Heros for Hire, will be joining once again with surprise characters greeting fans and posing for fun photo opportunities. Also coming back is the Joint Training Facility providing larger than life fun with oversized games and inflatables. All activities are free!
The Annual South End Community Block Party was first held in 2016 to bring the community together and begin developing a shared vision for South End neighborhoods. After the first event at the Bester Elementary School field attendance grew each year. The following years Block Party events have been held at the Hagerstown City Park with thousands in attendance, a highlight of the South End community, allowing a greater number of children and families to attend. The event aims to honor the strong connections in the community as it celebrates the vibrancy of the families that reside in the South End community. Funding and support for the Annual South End Block Party and focused South End neighborhood efforts is provided on behalf of the Alice Virginia & David W. Fletcher Foundation and the Hagerstown Community & Economic Development, as well as an ongoing partnership with the Washington County Department of Human Services to support stronger families and thriving communities. Inquiries regarding the event can be directed to connect@besterhope.org or by calling (240) 513-6370.