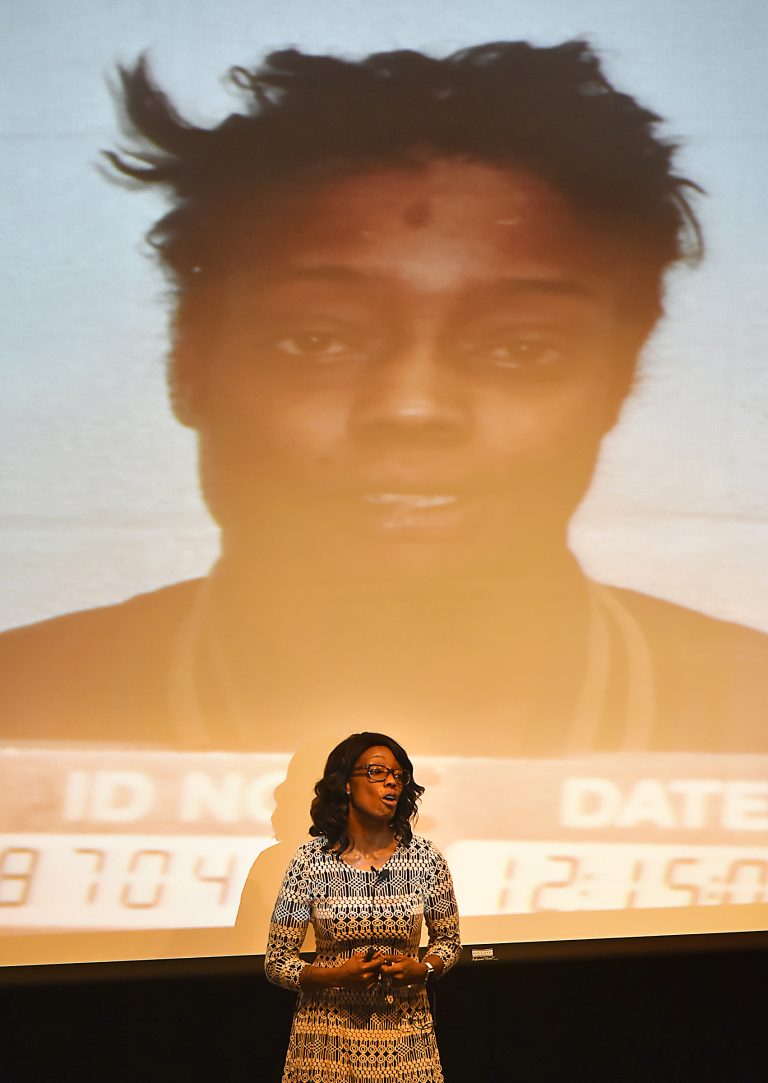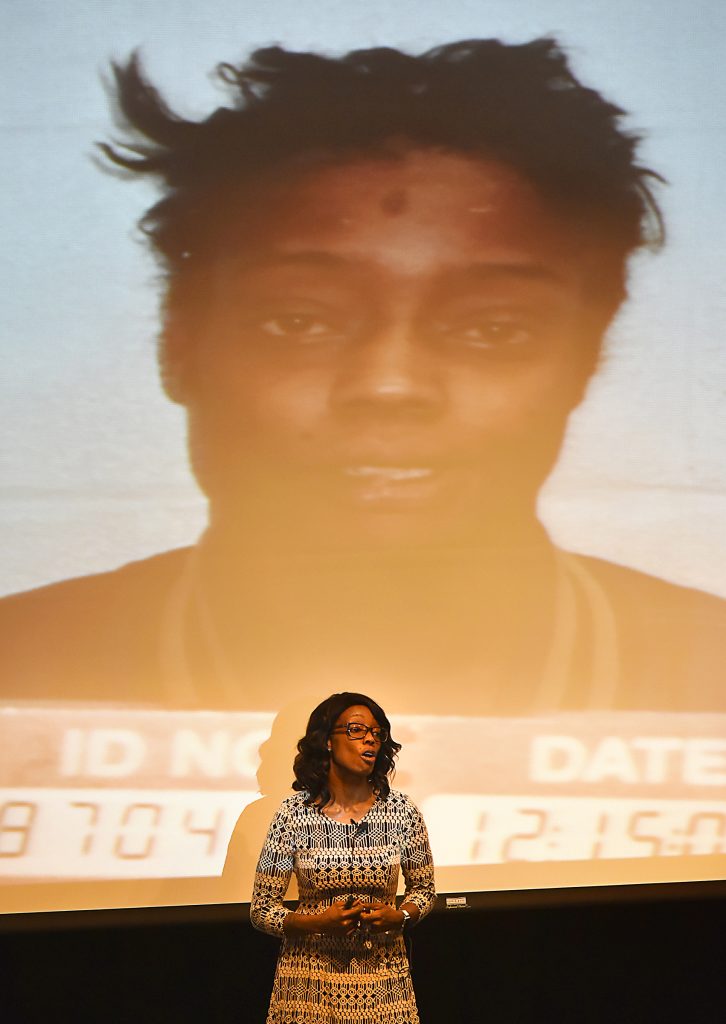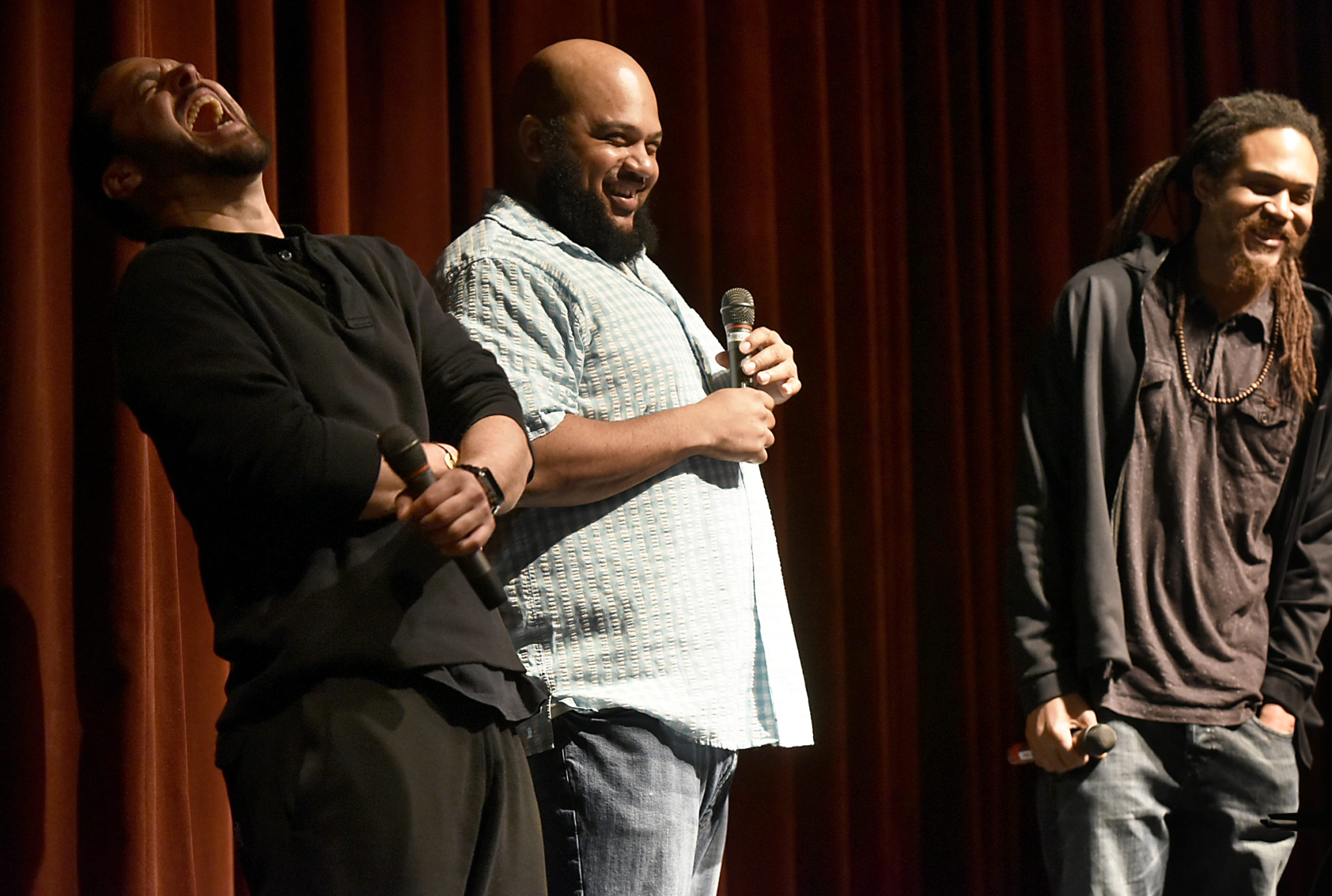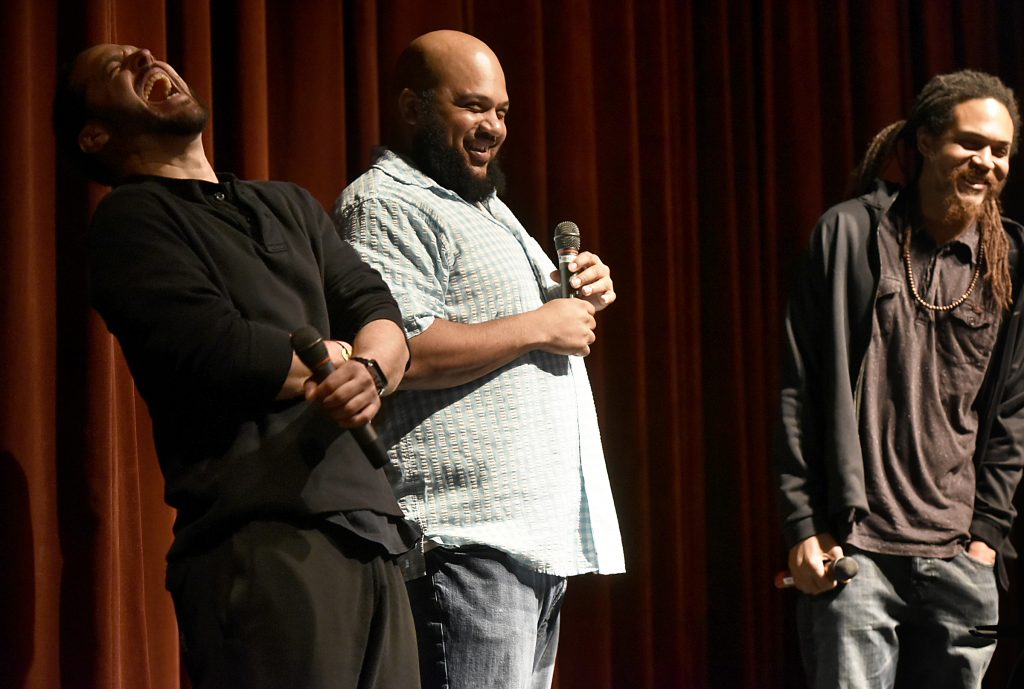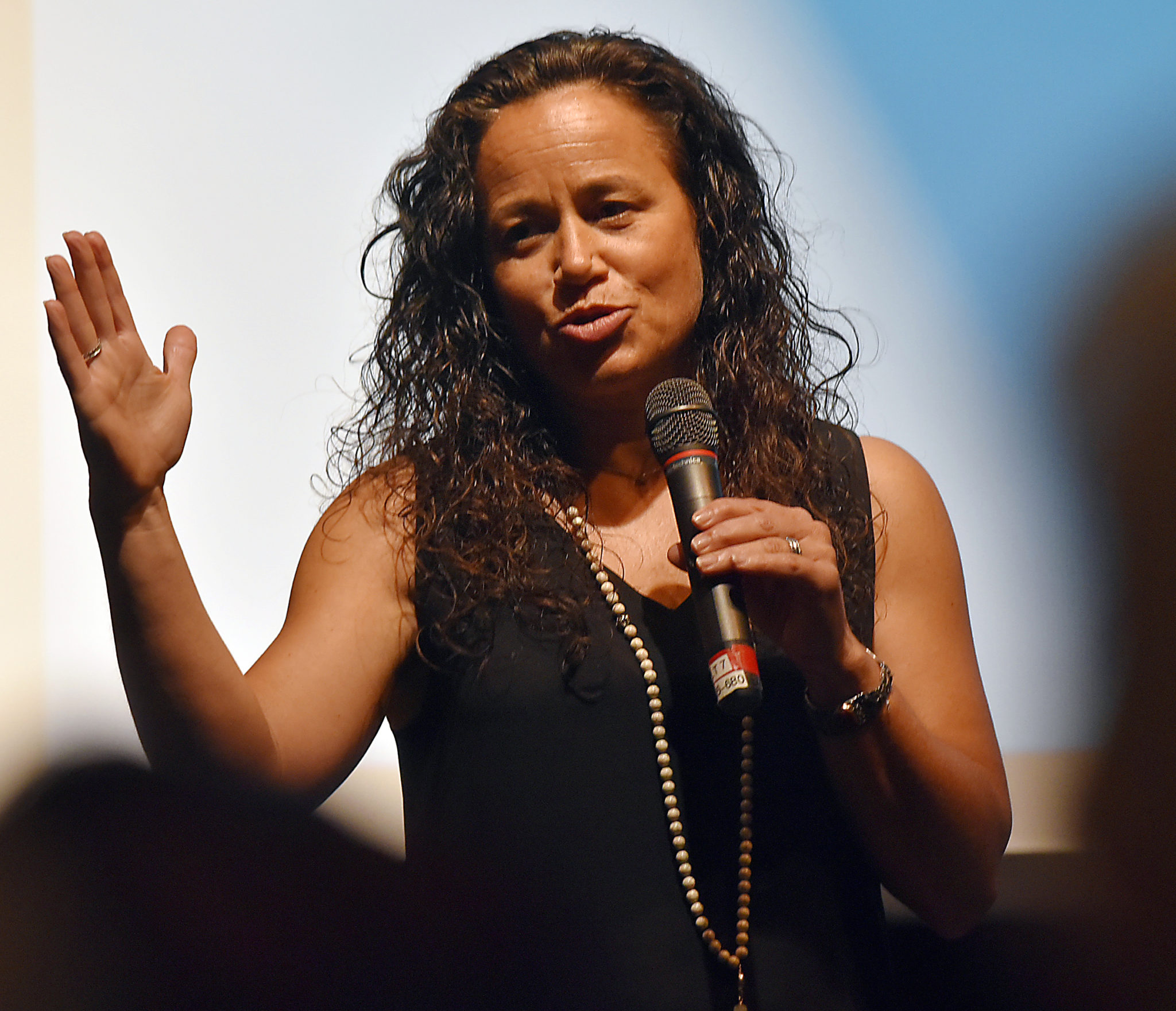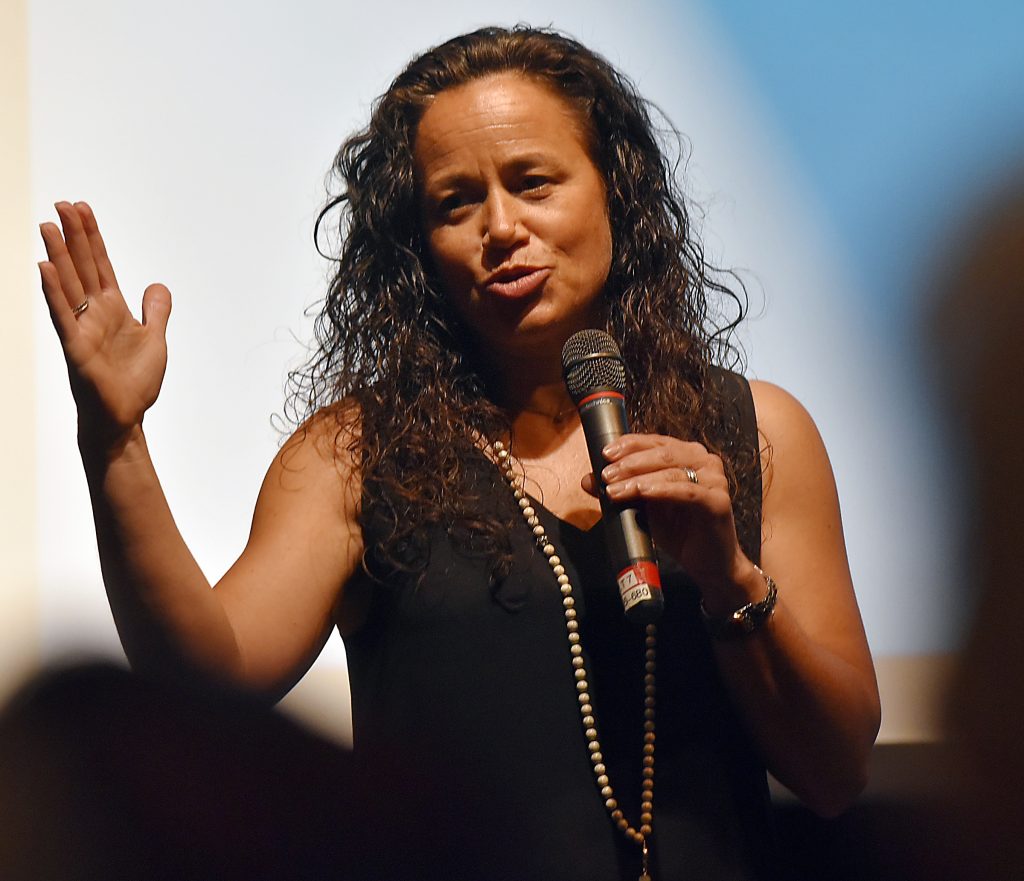 A diverse group of 450 community stakeholders came together today to learn from national speakers at "Unconditional Care" on the campus of Hagerstown Community College at the Kepler Theater. Hosted by Bester Community of Hope, a San Mar Initiative, this event was the sixth installment in a series of trainings focused on beliefs and strategies for social progress, and this event placed a particular emphasis on self-care and understanding the impact of caring for others. Bester Community of Hope Director Jen Younker, LCSW-C explained,"Those who work taking care of others often disregard the need for self-care until signs of distress arise. Even then, we still may not recognize the signs as maladaptive or troublesome. If we take a preventative approach by taking care of our nervous system, we can mitigate the effects and keep our A game strong."
Tonier Cain, founder and CEO of Healing Neen Inc. in Annapolis, Maryland, brought to the audience her amazing personal story of resilience. Overcoming profound trauma and devastating challenges, including drug addiction and living life on the streets, Cain was eventually able to address the root causes of her behavior and use it as a launching pad for her worldwide success.  "When my belief system changed, is when my thoughts changed." She revealed deeply personal moments, and reflected on her journey to recovery, "I remember the moment that I thought things may have changed. I was in a program and someone snapped a photo of me playing with my daughter. And I saw her smile." As a living success story, Cain urged the audience to consider her when thinking of others they support, "If you don't believe in the people we serve, how can they have hope for themselves!"
Brothers Ali and Atman Smith along with Andres Gonzalez came together to share their work from the Holistic Life Foundation in Baltimore City, a comprehensive program focused on teaching mindfulness practices to communities as a tool for both self-regulation and helping others. The trio took the time during the presentation to show the work in action, by leading audience members through a variety of breathing and mindfulness practices. On different occasions the audience fell silent as they were lead through different approaches, with the hope that this first hand practice experience would be useful tools for both professionals and those served.
Laura van Dernoot Lipsky, Founder and Director of the Trauma Stewardship Institute, brought humor and research to lead a focused dialogue on developing insight on the personal toll of working to care for the needs of others. She blended that dialogue with some common sense responses, including focusing on your purpose, to ensure helpers weren't headed towards a destination of burnout. "Why am I doing what I am doing everyday? As long as you're honest, you can remind yourself of your why! Our lives are not being done to us; we are co-creators."
Noteworthy contributors also included longtime San Mar psychiatrist Dr. Ira Lourie, a thought leader in developing effective systems of care. San Mar Family & Community Services CEO Keith Fanjoy also used the occasion to deliver the 2019 Jim Casey Building Communities of Hope award to the Community Free Clinic of Washington County, as well as recognize long-time San Mar board member Susan Peterson for her dedicated service.
The Bester Community of Hope initiative is made possible due to a significant investment of resources from the Washington County Department of Social Services and the Maryland Department of Human Services, the Alice Virginia and David W. Fletcher Foundation and Casey Family Programs, along with a network of active partners.