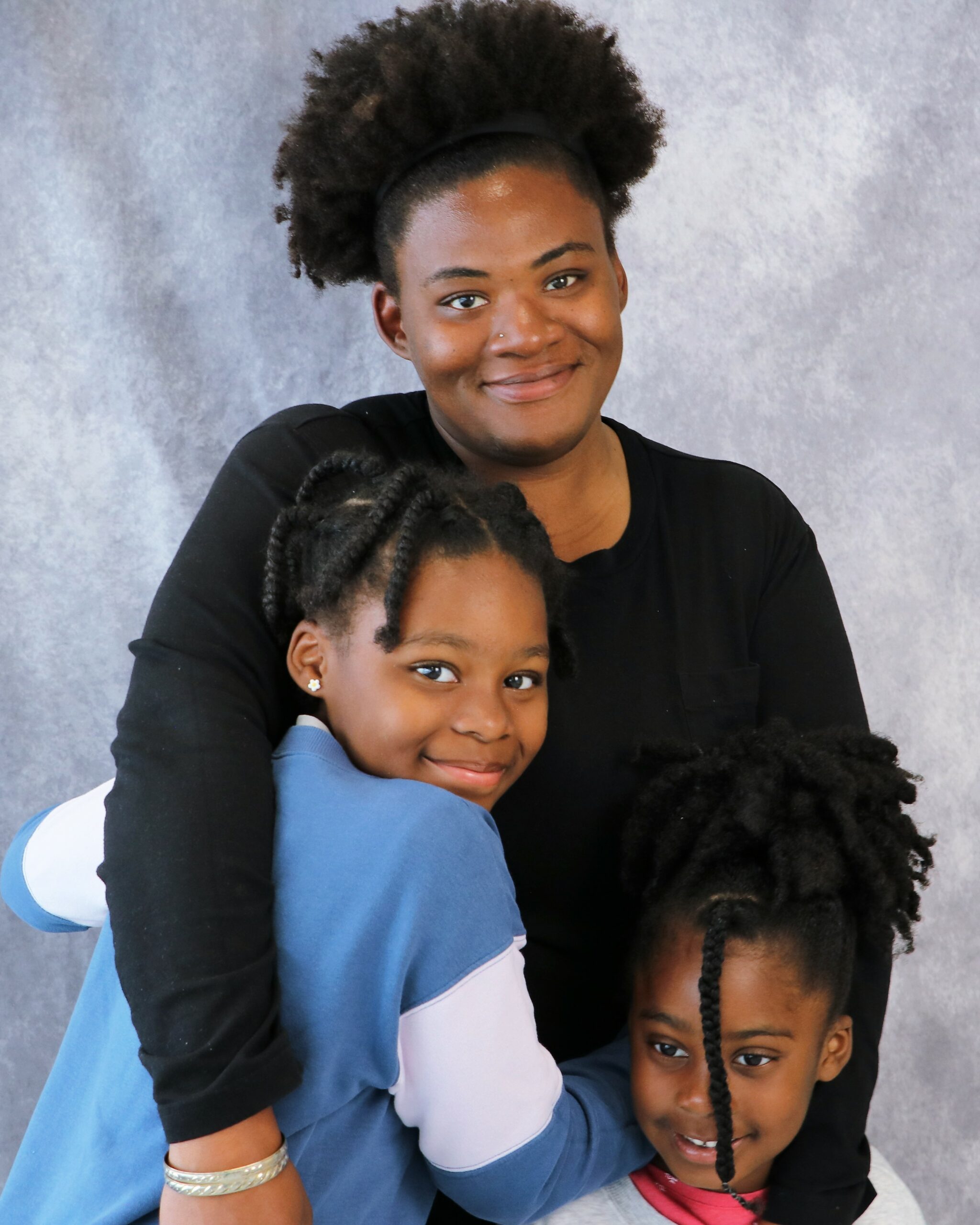 On April 22, 2023, Bester Community of Hope (BCOH) was proud to sponsor the Agency's Annual Family Day Celebration at Pediatric Movement Center in Hagerstown, MD. South End families were invited to join BCOH staff for an evening of family fun designed to highlight strengths, celebrate growth, and build social connections. The theme of this year's Family Day Celebration was Earth Day; We are the WORLD, invest in your FAMILY.
Guests were welcomed by BCOH Director and resident Monarch Butterfly, Jen Younker. Family portraits were available courtesy of BCOH Intern Kylie Carbaugh. An Earth Day story time was provided by San Mar Family and Community Services Board President, Mr. Mark Halsey who read, "We Are All Connected: Caring For Each Other & The Earth."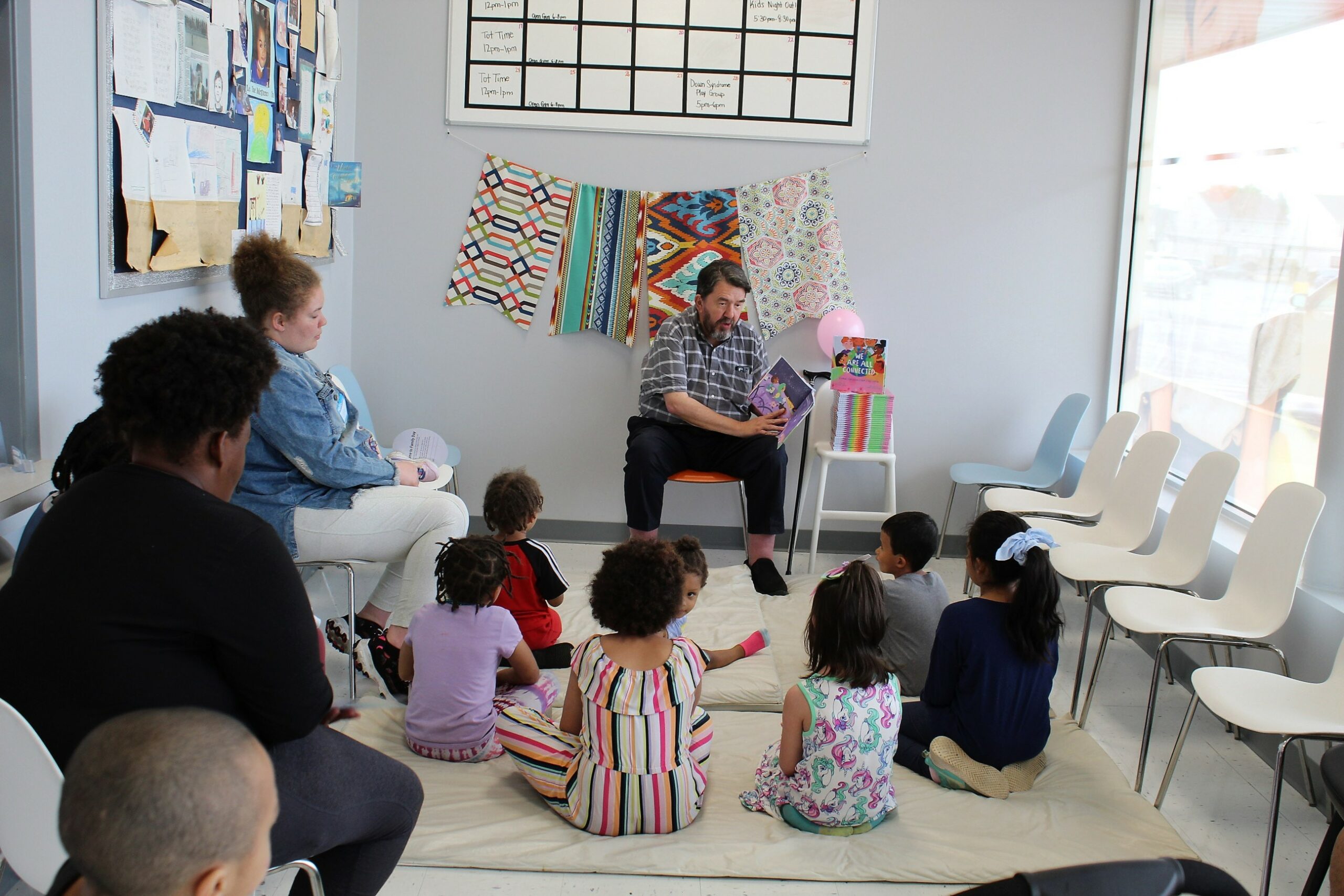 BCOH Care Coordinator Samantha Barrett provided support in the PMC Play Area. Children and families were able to engage in free-play on the colorful and exciting equipment at Pediatric Movement Center, a family-centered Agency with a passion for providing the best care to the children and families in the Tri-state region. Through individualized child-centered practices, PMC empowers children with and without special needs by providing comprehensive therapeutic, recreational, and support services to children and families in Hagerstown. PMC staff are highly trained qualified clinicians and instructors able to assist children in reaching their maximum potential in a safe, loving, and reassuring environment.

In keeping with the Earth Day theme, families navigated through a global map of nature and go-green inspired activities provided by Agency's Family Support Team centered around the Strengthening Families Protective Factors, the research informed framework developed by the Center for the Study of Social Policy to promote practices that ensure that children and families may thrive, reducing the likelihood of child abuse and neglect.
Protective Factor Activities:
Concrete Support In Times Of Need
Family Support Worker Sarah Banks provided an activity designed to recognize the impact of surge pricing for food on families. Each family was provided an insulated lunch box containing reusable meal prep items including ice packs, a storage container, and silicone pastry liners to use to separate snacks. Attendees' children were invited to create a healthy to-go lunch for themselves to provide an easy to replicate example of a low-cost child friendly meal. Parents learned about resources available in Washington County specifically in the areas of supplemental food and nutrition resources in addition to a list of discount grocery stores in the area.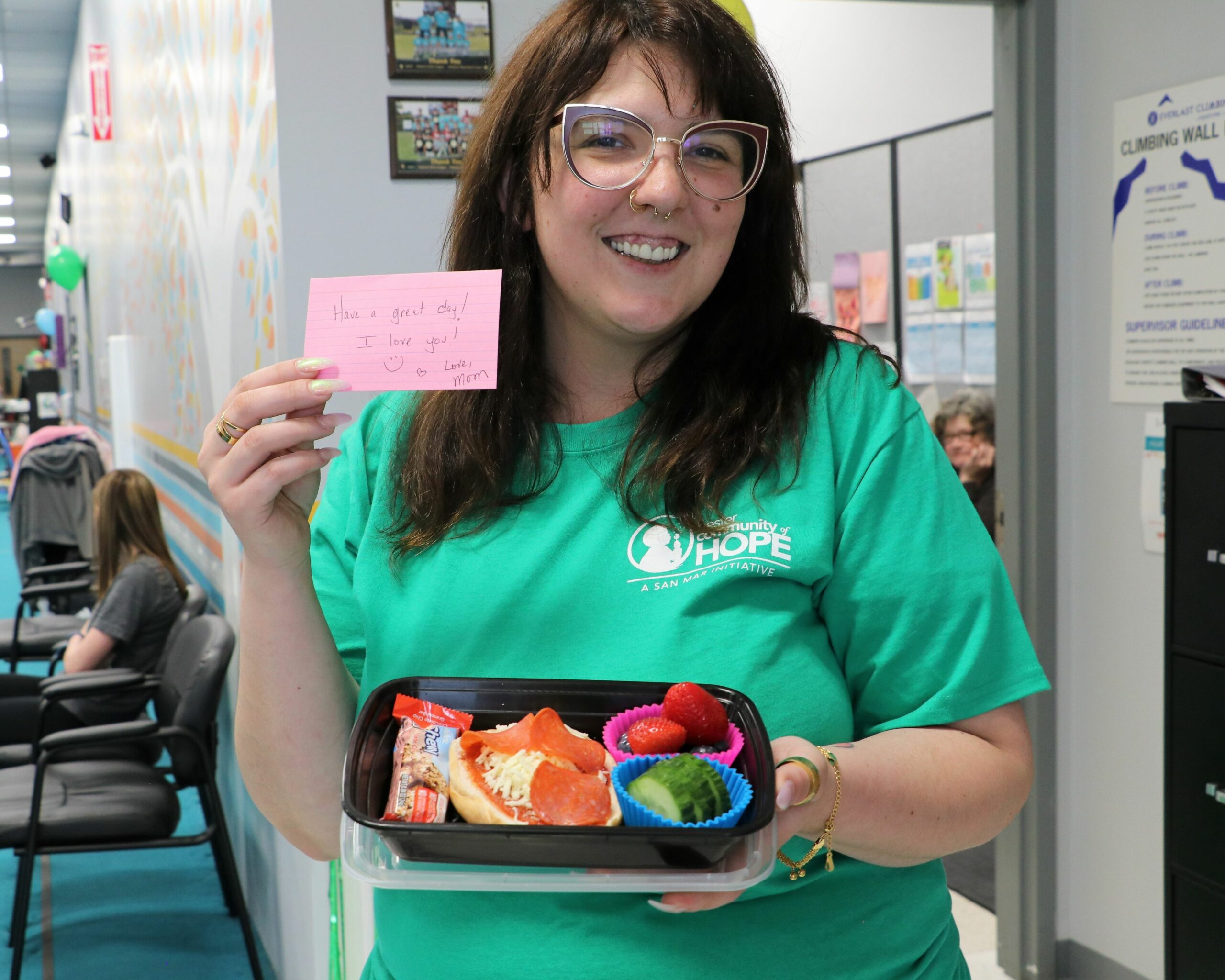 Knowledge of Parenting & Child Development
Family Support Worker Teesha Carmon provided an activity designed to educate children about the importance of play in learning.  Attendees' children were able to participate in an activity that centered around recycling.  Using a backdrop of a playground scene that was covered with examples of litter, children were able to gather the recyclable materials, sort them into categories, and place the items in the corresponding recycling bin. Upon completion of the recycling activity, children were able to pledge their commitment to making green choices by adding their handprints, name, and an identified way in which they can help to protect the Earth on a large Earth Day poster.
Social-Emotional Competence of Children
Lead Family Support Worker Teri Conrad provided an activity designed to help attendees identify emotions, promote communication, and develop healthy coping skills. Children were eager to share some feelings that might make them feel bad like being sad, angry, or afraid. The children then selected a card from the "ABC's of Calming Down" to think of some ways to "Up-Cycle" feelings: B-Breathe Deeply, H-Hold a Pet, and parents'/grandparents' favorite N-Nap. An "Up-Cycle" craft was enjoyed as the children turned milk cartons into windsocks. Using their windsocks, they were encouraged to demonstrate another ABC of Calming Down: D-Dance Around. Children left with the affirmation "I learned healthy ways to talk about and handle my feelings."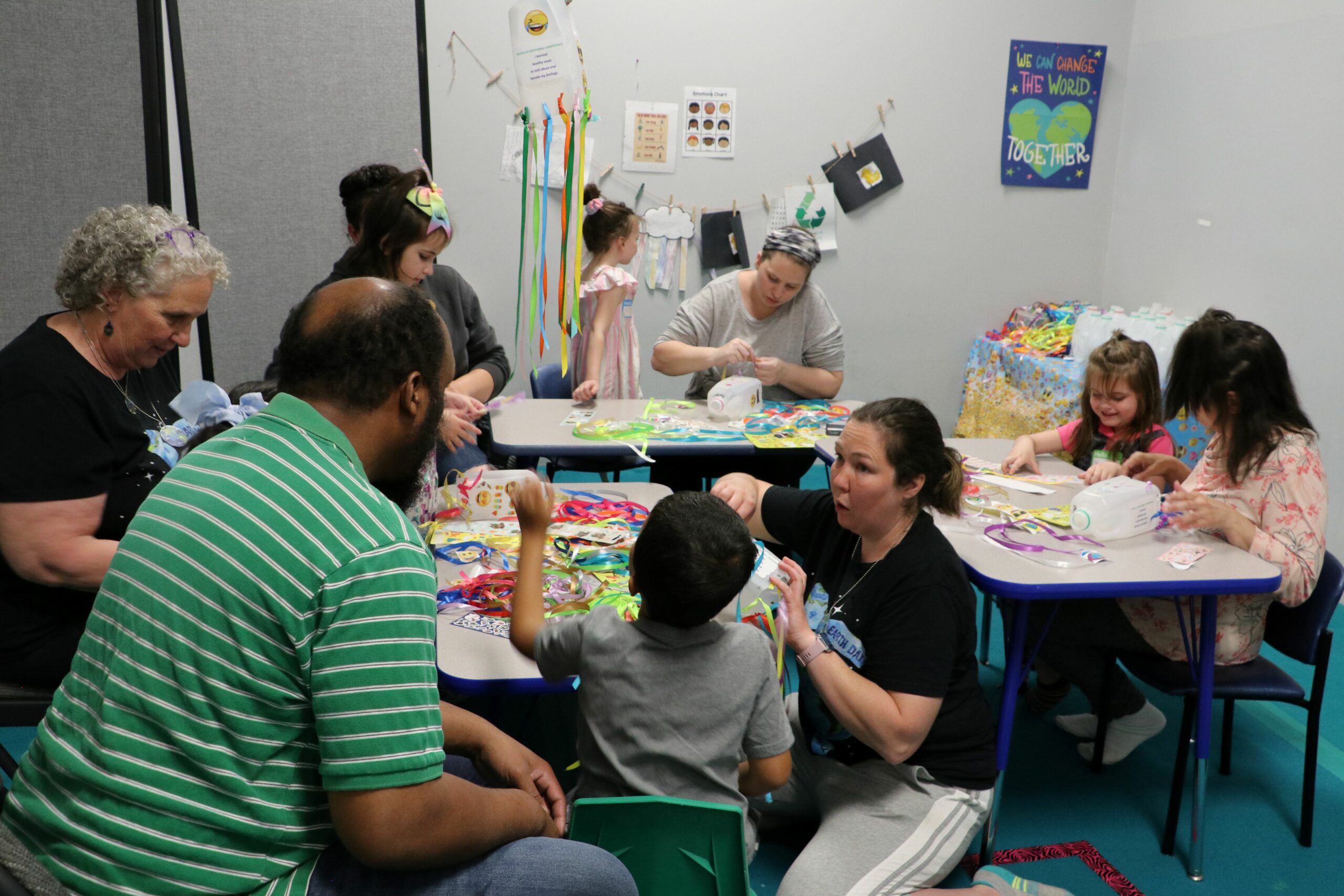 Parental Resilience
Family Support Worker Crystal Maus provided an activity designed to educate parents and children about nurturing resilience. Using Tree of Life symbolism, attendees were able to identify factors which inform a person's resilience and ways to nurture and support personal growth. Participants were able to gain confidence in sharing their personal stories and practice mindfulness techniques to support healthy relationships and the achievement of personal hopes and dreams. A "Seed Library" was provided to families to highlight the benefits of gardening for individuals including mental and physical health. The activity culminated with the message that much like in the garden, individual and family growth is possible when people are flexible, cared for, and able to adapt. To support Parental Resilience, parents were able to enjoy a 15-minute massage provided by licensed massage Therapist, Ms. Ola.
Social Connections.
Neighborhood Partnership Coordinator Joan Balbuena provided an activity designed to build and enhance social connections among families to create a support network for parents in the community. Meaningful friendships and natural supports for families are vital factors needed to thrive. Social connections guarantee that families have access to a network of people that will provide support when adversity knocks on the door, and to celebrate achievements made when balance is regained. During Family Day, parents and their children worked together to build bird feeders at the Social Connections station. With the emphasis on strengthening and nourishing relationships, families decorated and assembled the bird feeders to bring a pop of color and joy to their green spaces at home.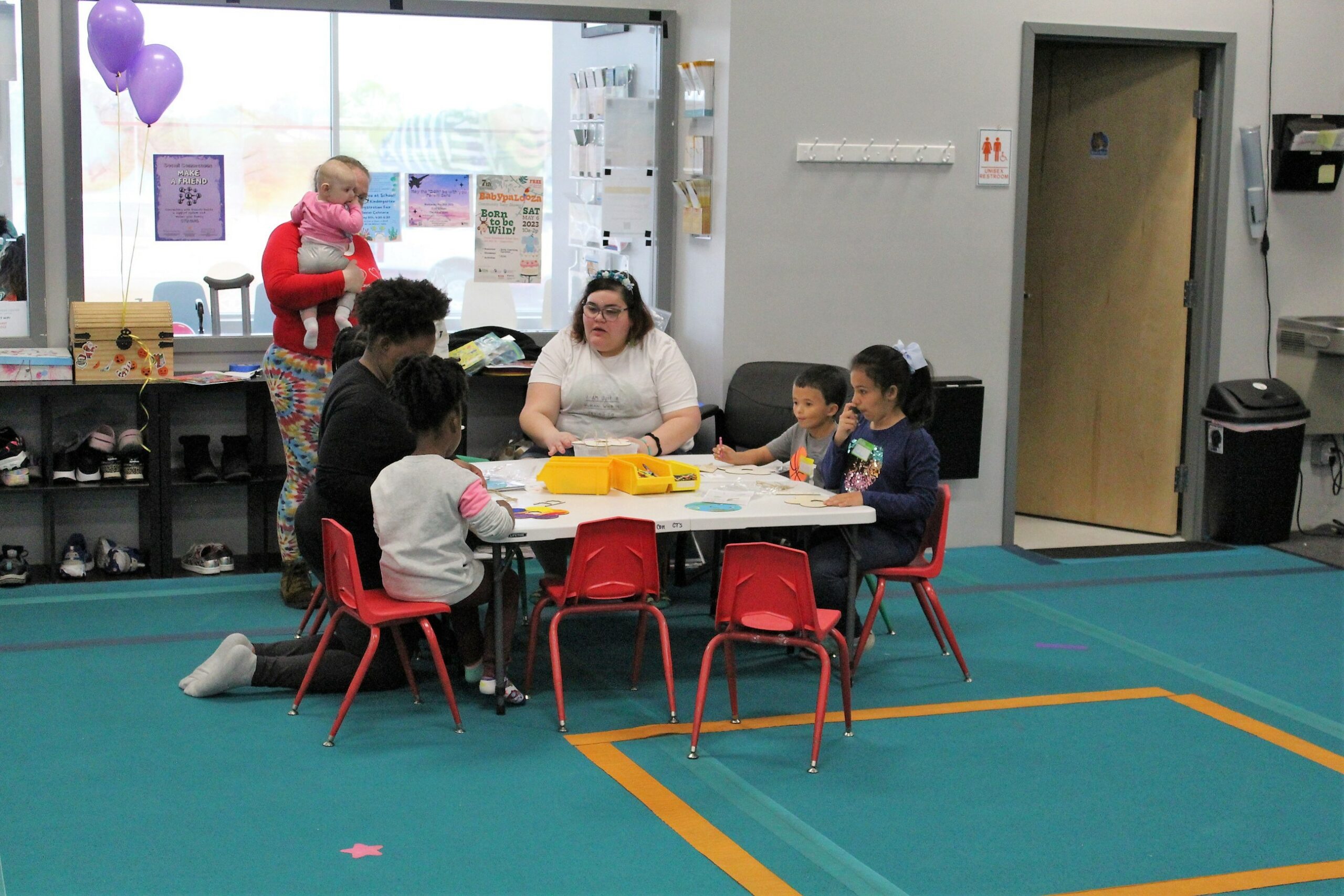 Every family in attendance was sent home with activity materials, household and hygiene items, and meals provided by BCOH from Chick-fil-A in Hagerstown. The evening wrapped up with Mother Nature herself sending families on their way under a beautiful full double rainbow, reminding guests of the real importance of Earth Day, and that there is beauty where there is hope. Bester Community of Hope provides support and opportunities to families in the South End of Hagerstown through partnership and funding by the Washington County Department of Social Services. If you are interested in learning more about these efforts and others, please connect with us at: www.besterhope.org, 240-513-6370, or connect@besterhope.org.